COMPETITORS

2023 competitor updates- please note:
– Horses section:
      – For classes 20 and classes 21, LEAD REINS TO BE ALLOWED 
      – Best Combination class 20 is for ponies up to 153 cms
– Replacement Cattle Judges
      – James Weightman replaces Christine Thompson judging Blondes
      –  Mrs Nicola Davidson replaces Robert Adams judging Ayrshires
Livestock, Equine, Fur and Feather, Dairy and Handicrafts Competitors
Saturday 23rd September 2023
All schedules are available to download just click on the links below.
We provide the FULL SCHEDULE or Select and downlaod the class of your choice.
Entries and payment for all classes (with the exception of Children's) are to be made online through the Showing Scene system – see button below schedules.
The Showing timetable and Judges list will be available within the schedule.
The Dairy and Handicraft marquee will still enter at Gate 3 but their position is now next to the Children's marquee.
A map of the showground is available on this site, the Show will be sign-posted from all directions, the postcode for sat navigation is TS9 5JL
The closing date for entries is the 29th August every year.  All relevant paperwork will be sent out in September.
Good Luck and enjoy the show.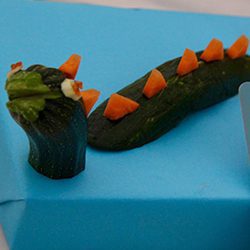 The Children's Section – Saturday 23rd September 2023
Here at Stokesley Show we have a proud association with the Schools of the area, we receive over 1800 entries in some 54 classes, these include over 400 entries from individual children who put together their entries at home.
We have classes for everyone from under 5 years up to 16 years of age on show day.  The classes on offer give the opportunity for everyone to enter a class within their age group.  Maybe your child has a talent for painting, making a model, baking, handwriting or one of the many other classes available, there is something for everyone whatever your talent.
Please enter and become a part of Stokesley Show, there are trophies to be won and prize money for every top 3 entries in each class, together with a winning prize card.
Entry forms can be downloaded from this section, together with full details required. Entries to this section are free, so come on, let your children's talent shine.
The closing date for all Children's entries is the 2nd September every year. 
Children's entries do not need to be submitted through the online system.
Just download the entry form, fill it in and send to The Secretary, Oak Tree Cottage, Newsham, Thirsk YO7 4DH, or email in entry form to Secretary@stokesleyshow.co.uk
PLEASE DO NOT SEND ANY EXHIBITS